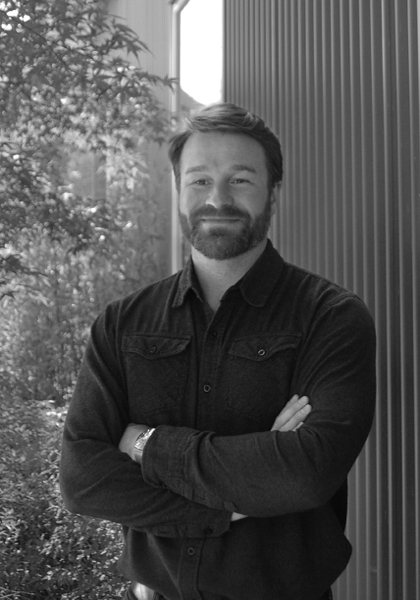 Zane joined MRV during the summer of 2011 and subsequently became hooked on Juneau and the range of projects at MRV. After finishing his M.Arch degree from The Design School at Arizona State University, he returned in 2012 as a full-time employee. Zane has a background in construction and earned a BA in Literature from Utah State University before pursuing a career in architecture. During graduate school he combined his construction and design experience and interned with a prominent design + build firm in Phoenix, "The Construction Zone."
With Zane's background and familiarity with construction practices, he quickly became a project manager at MRV, overseeing some of MRV's largest projects. He has overseen many projects at MRV, including the US Forest Service Research Lab, Sitka Public Library, Icy Strait Point facilities, Juneau Housing First, Cordova Center, and the Marine Exchange Offices.
Outside of the office, Zane takes part in multiple community organizations related to preserving and caring for the local built environment. He is the chair of Juneau's Historic Resource Advisory Committee, where he oversees project reviews for cultural and historical significance. He was an active member of Juneau's Commission on Sustainability, and helped review and contribute to the Juneau Energy Plan and Climate Action Plan. Zane actively works to preserve cultural resources and encourage sustainable design in Juneau.
Currently, if he is not in the office he is most likely out of cell phone range enjoying a hike on one of Juneau's many trails. Oh, and if you for some reason need a Norwegian translator, Zane's got you covered -that's another random snippet on his resume from living in Norway.
Professional Registration
Architect, Alaska, No. 117779
Master of Architecture, Arizona State University, 2012
Bachelor of Arts, Literary Studies, Utah State University, 2007
LEED Green Associate (2012)
Board Member – The Alaska Design Forum
Southeast Section Chair  – AIA Alaska (2017-18)
Committee Chair – Juneau Historic Resources Advisory Committee (2015-current)
Board President – Juneau Jazz and Classics (2013-present)
Board Member – Juneau Commission on Sustainability (2016-2017)