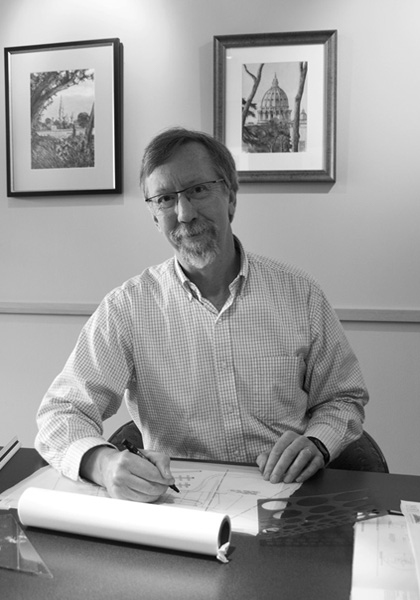 Paul has been with MRV Architects since 1981 and has been involved with some of the largest and most complex planning and architectural projects in the region. Paul excels at leading multi-disciplinary teams through a collaborative design process to deliver notable, timely projects. He has extensive experience in Programming, Site Analysis, Construction Documents, and Contract Administration. Paul has also headed many planning projects for Southeast Alaska communities, including several large-scale greenfield development projects in Juneau. He is passionate about incorporating community input into design solutions so that each project is perfectly suited for its users.
Paul is particularly interested in the impact planning policy and administration can have on creating a vibrant, economically viable, and strong community. As Project Architect, Paul assists clients with zoning and planning issues, and regularly meets with and presents to the CBJ Planning Commission (of which he is a member). Paul has an in-depth understanding both of the current CBJ Land-Use Ordinances, as well as the administrative processes governing planning in the City and Borough.
Paul is also an artist, a runner, and an active member of Juneau's creative community.
Professional Registration
Registered 1984, AIA# 6536-A
LEED AP Certified, 2007
Masters in Architecture,Harvard University, Graduation with Honors
Bachelor of Arts, English Literature, Whitman College
AIA Alaska Chapter 2018 Kumin Award
CEFPI Len Mackler Award 2012
Excellence in Education Award, Juneau School District, 1999
Distinguished Service Award, AIA, Alaska Chapter, 1990
Juneau Planning Commission Vice-chair: 2014- present
Juneau Arts & Humanities Council

Board Vice President 2004-2011
Board President, 2008-2010

Juneau Economic Development

Council, 1997-2003
Board Chairman, 2003

Council of Educational Facilities Planners Intn'l Alaska Chapter

Board of Directors 2002-2003

American Institute of Architects:

State Chapter President, 1990